Hey there. Sorry it has been quiet around here. I have been fighting this bronchitis for almost three weeks already and it has really hit me bad. I have already been through a bout of antibiotics since it wasn't going away...But, I am still not getting better. So, off to the doctors again this morning to see what's going on. Last week I took some cough syrup and thought I was supposed to take two table spoons...well, I was actually supposed to take two teaspoons. That really did a number on me. My heart was racing and I felt shaky and weird for two days. Note to self...Follow directions on medications. It was a doozy. I managed to keep up on some house chores and getting this mug swap I signed up for ready to send to a gal in Illinois.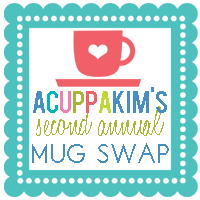 I hope she likes the mug I found.
I also made her a scrappy colorful mug rug...
Just a little extra fun treat.
Who doesn't love a mug? I have a thing for mugs...There are so many cute ones out there just waiting to be filled with a cuppa Joe or lovely warm tea...and not to forget some hot coco. Oh yeah. I don't know who my swapper is though since this swap is set up anonymously. I send a mug to someone, but I get a mug from someone else...cleaver. Can't wait to get mine. Well, I must get going. Please if you could take a teensy minute to pray for my health...I would so greatly appreciate it.
Have a wonderful Wednesday.