Last month I joined in on A Cuppa Kim's 2nd annual mug swap. My Muggy Sender (new friend) is
Katy from Goodness Gathering
She is fairly new to the bloggy world and a fellow believer & home schooler, lover of thrifted stuff and loves her family ( My kind of gal). It was truly a blessing that her mug to me made it to my front porch when it did. It was a downer day for me...I opened the box and pleasantly surprised by
the pretty mug with a sparrow on it....
It was the verse that really tugged on my heart...
As it reminded me of God's
love
for me, and to know He is in complete control.
" Be still and know that I am God"
Psalm 46:10.
Katy wrote me a sweet card and sent a few extra goodies.....( handmade bookmarks), she had mentioned how she tried to find a red mug of some sort for me (
since I love red
) But this particular mug jumped out at her, she felt she just needed to get it. Though it is not red...I am ever so thankul, grateful and blessed she sent such a lovely mug with a message I love and needed. So, every time I drink from this mug,
I will think of my new friend Katy
and praise God for His many blessings.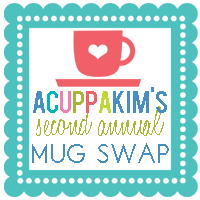 My assignment was to send a mug out to someone else.
Kim assigned me to Jill
I thought I would send her something fun and colorful.
I found this cute Dick & Jane mug and made her a patchy Mug Rug.
I have yet to hear from her to see if she liked it..
I hope she liked it. It was a fun swap...
I love mugs.